Over the course of many years of driving, car seats and carpets can accumulate a variety of stains and bacteria that can both damage the occupants and produce foul odors. It's preferable to shampoo car seats and carpets with cleaning products to avoid these types of problems and to maintain the interior of your car looking and feeling fresh while avoiding going to the car wash, despite the fact that warm or hot water with dish soap and steam cleaners are good.
Why we need to shampoo car seats?
If your car seat has cloth fabric, it may be challenging to get rid of that stain or covered in dust dirt. The highly absorbent fabric material of your foam cushions can become deeply ingrained with food, vomit, and pet accidents. Not only should these spills and accidents be cleaned up as quickly as possible, but the appropriate upholstery shampoo should also be used.
Not all interior cleaners are safe to use on your car seats and fabric, and you don't want to waste time and money on items that leave behind oily residues. The interior of your car may become discolored or suffer other damage as a result of using incorrect products or aggressive household cleansers, necessitating a trip to the mechanic.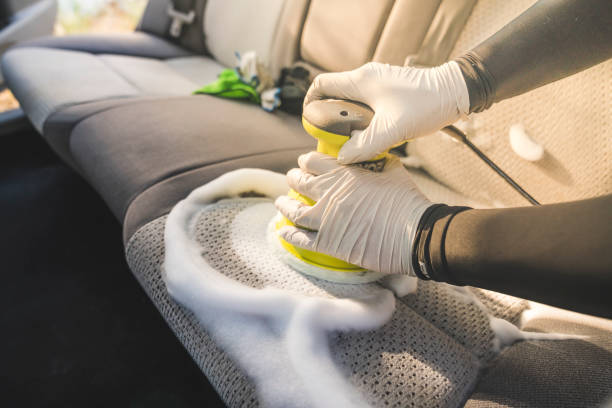 How to Shampoo car seats in 2022?
Step 1: Cleaning Carpets & Car Seats
Prior to washing your seats and carpets, it is always ideal to vacuum them. This is because we want to get rid of any loose debris to prevent getting it wet, which would make it harder to get rid of or, worse, result in more stains. Therefore, be sure to carefully vacuum the area surrounding your car seats, the carpets, and any other part of the car that will come in contact with any type of all-purpose cleaning or shampoo.
A wonderful tool for removing dirt and grime from fabric or upholstery crevices is pressurised air. If you don't have compressed air, you can also brush your carpets to remove any remaining debris after the initial vacuuming.
Step 2: Enzyme Cleaner Spray
Depending on the stain, we advise spraying enzyme cleaning and allowing it to sit for a few seconds. In the meantime, the enzymes are dissolving the grease, coffee, milk, food, and other common stains and odours. Car seat shampoo will work more effectively and provide you better overall outcomes as a result.
Spray enough upholstery/enzyme cleaner to completely cover the carpets and upholstery in your car. If the seats are leather, avoid getting the cleaner on them. Spray the enzyme cleanser over the fabric and upholstery every few minutes to keep them moist until the cleaning solution has been on them for three to five minutes.
Step 3: Using shampoo and rubbing
When the upholstery shampoo/enzyme cleanser has finished its job, you should spray your fabric or leather shampoo on the carpet and one seat at a time. Don't go on to the next seat or area of carpet before you've finished this step. If you spray too much shampoo, it will be difficult to remove the extra and take a very long time to dry.
You want to spray just enough shampoo to form a fine lather. Start cleaning your seat with your carpet, leather, and/or detailing brushes once you've evenly coated it with shampoo. For upholstery and fabrics, crosshatching strokes up and down work best; for leather, circular motions work best. The dirt, stains, and the majority of the extra shampoo will be absorbed by the microfiber towel once you have washed the seat.
Pro tips to shampoo car seats
Here are just a few expert tips to make washing and keeping your car seats easier.
Vacuum Extraction: Fortunately, a typical shop vacuum may produce outcomes that are comparable to those of carpet and upholstery extractors, which can cost hundreds of dollars to buy. Grab your shop vacuum after shampooing your seats, and use the nozzle to generate a suction effect. You'll see that as you go slowly over your seat, the shampoo is efficiently removed, and deeper grime and stains are also removed.
Quick drying: Sometimes, especially on colder days, it takes an eternity for car seats to dry after shampooing. Turning on the heat and lowering your windows can help the wet seats dry more quickly and allow the shampoo to escape the vehicle. Just make sure that when it is operating, your car is in a place that is well-ventilated and away from people.
Seats made of very dry leather or vinyl: If your leather is older or has been mistreated, it could be very dry and discoloured. We enjoy slathering the leather restorative on thickly and letting the car sit in the sun. The sun's heat will help the leather's pores open, allowing the restorative to penetrate. You are more than free to repeat this procedure as necessary, although occasionally the leather may be too damaged for restoration, necessitating replacement or reupholstery of the seat.
Read more at Stickshiftr and ask if you need any help!