Do you want to know about how often brake fluid change? Read the above article to get the answer. One of the things that sometimes eludes us is brake fluid. There are several items we immediately consider when a car requires maintenance: oil, oil filters, air filters, and spark plugs. The brake fluid level of the car affects the efficiency of the brakes. When the brake fluid becomes too low, the brake pads will not be able to work efficiently and thus slow down the braking performance of the vehicle.
Your hydraulic braking system depends on brake fluid, but what exactly is it and what does it do? Does brake fluid need to be replaced or become bad? The information you need is provided here, along with suggestions on when to change your brake fluid.
What is brake fluid and how it works?
The chemically-based liquid utilised in modern cars' hydraulic braking systems is called brake fluid. It is made to increase the force your foot applies to the brake pedal so that more force is applied to the brakes on your car. Without brake fluid, stopping your car would require a lot more than just your foot!
Your vehicle will likely have hydraulic brakes unless it is quite ancient. This is advantageous because hydraulic braking systems are widely used and the most efficient. They only function correctly if they are properly maintained, though.
Yes, discs and pads are a concern, but don't neglect the fluid. Your brakes won't function without this. By depressing the pedal, you influence the fluid, which in turn influences the brakes.
The issue with brake fluid is that it absorbs moisture easily. That implies that it enjoys soaking up moisture. The boiling point of braking fluid decreases when more moisture is included into the fluid. Therefore, it stands to reason that the longer you wait, the less effective it will be.
How often brake fluid change?
You've probably heard that your engine's oil is its lifeblood. In essence, it's what fuels your motivation. However, brake fluid is as important to guaranteeing that you can stop. The easiest approach to determine how frequently to change brake fluid is to adhere to your manufacturer's suggestions. According to certain manufacturers, brake fluid needs to be changed every two years. Others advise every three years or 45,000 kilometres.
Contaminated brake fluid and moisture in your fluid lines might harm your car more if you ignore them. This includes internal rust, corrosion, and rust on your brake callipers, brake lines, and other braking components, all of which can be expensive to fix. Fortunately, you may easily refill the brake fluid to probably prevent these problems. Furthermore, the cost of replenishing brake fluid, often known as a "brake fluid flush," is typically $100 or less.
Regardless of mileage, the majority of automakers advise changing the brake fluid every two years. Even though the fluid might last longer, why take the chance?
Change the fluid even if it appears to be in good condition. The moisture in the fluid is miniscule, so you won't be able to see it. It's important to remember that even if you don't change your brake fluid, you should check it on a regular basis. You should at the very least be scanning it quickly once every few weeks.
Is there another way brake fluid can degrade over time?
You can boil the fluid if there is ever a problem with your braking system and it becomes too hot. The ease with which a fluid will boil depends on its boiling point. When a liquid boils, a lot of air bubbles occur, making the fluid highly compressible.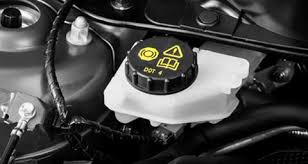 If the fluid is compressible, the brakes won't be affected when the pedal is depressed. The brakes stop working when the pedal becomes "soft." This may occur following an extended duration of braking, such as when descending a long, steep hill.
In truth, the brake fluid can overheat and create something called brake fade, where the fluid's hydraulic action is less effective, when the car is driven energetically (on a race course, for example. Remove the brake master cylinder cap and smell the fluid; if it smells burned or is unusually dark in colour, it has to be replaced.
Conclusion
For your safety and the safety of your car, brake fluid is crucial! Additionally, it's advisable to check that your brake fluid isn't preventing you from maintaining your safe driving practises.
Read more at Stickshiftr and get more information about cars and its parts!